Ep #230: XYPN's 2019 Benchmarking Survey Results Review with Michael Kitces
November 20, 2019
Every year, we collect data from our members to track where they are in their business so we can better understand their journeys and what new members can do to supercharge their businesses. Today, I have Michael Kitces joining me on the show to go over this year's benchmarking survey and share the results.
Listen in to hear the core data points we focused on and the interesting findings that came out of the study. You will learn how niches affect success, how the CFP® impacts growth, and more as we provide answers to questions many of us have had while building our practices. Whether you are just starting out or looking to grow your existing firm, this is an episode you don't want to miss!
Listen to the Full Interview:
What You'll Learn from This Episode:
Why we do our own benchmarking study.
What you can learn from how people are adjusting their fees.
Why we have a younger group of advisors.
The impact of niches on the success of a firm.
Why growth rates slow after the first few years.
How firms with the CFP grow differently.
Where members are actually getting clients from.
Featured on the Show:
Share
Get episode alerts by email
Ep #180: Diving into XYPN's 2018 Annual Benchmarking Study with Michael Kitces
Ep #180: Diving into XYPN's 2018 Annual Benchmarking Study with Michael Kitces
Ep #323: XYPN's 2021 Benchmarking Survey Results Review with Alan Moore and Michael Kitces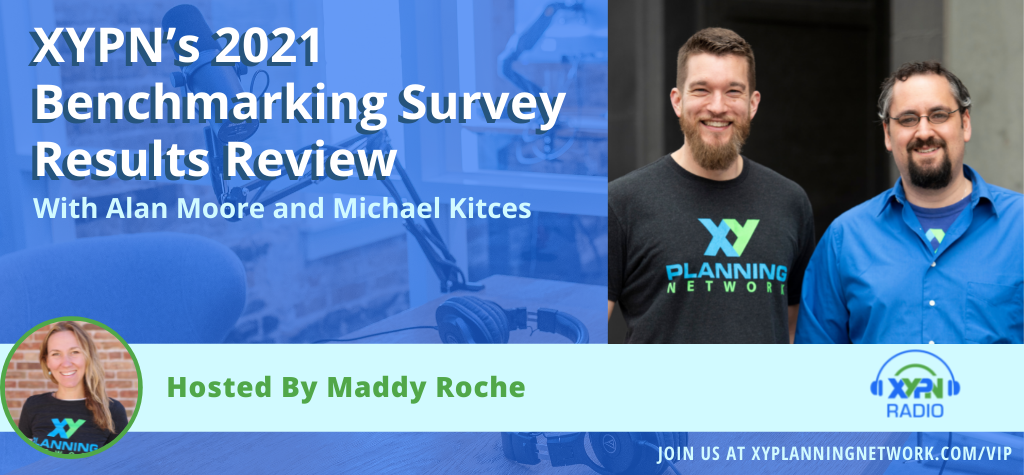 Ep #323: XYPN's 2021 Benchmarking Survey Results Review with Alan Moore and Michael Kitces
Ep #347: XYPN's 2022 Benchmarking Study Highlights: A Review with Alan Moore and Michael Kitces
XYPN's 2022 Benchmarking Study Highlights