5 MIN READ
Advisors in our Network have honed their expertise and they're passionate about sharing it. In addition to being brilliant financial planners, many are also highly acclaimed published authors. Check out these current titles authored by XY Planning Network advisors and take control of your finances.
(When you click on a "buy this book" link or a book cover image, you will leave the XY Planning Network site and be directed to an online bookseller.)
Crazy College Money: Make Smart College Money Choices – Without The Crazy by Nannette Kamien
Are you freaking out about how you're going to pay for your kid to go to college?
With all the news about the student loan crisis, college admissions scandals, and ever-rising college costs, it's easy to get caught up in the crazy that is the college admissions process. Nannette Kamien starts with the root of all this crazy - the emotions and experiences of you, the parents. She believes paying for college is as much (if not more) an emotional decision as a financial one.
Based on her work with families of college-bound kids, she shares her process and expertise to help you make smart money decisions, instead of crazy ones. With equal parts tough love, practical information, and little-known tips, she guides you through:
Developing your College Money Philosophy
Assessing your College Money Reality
Having the College Money Talk with your children
Figuring out who you should trust
Knowing how much you can afford to pay
Understanding the Financial Aid Process and the Financial Aid Award Letter
Choosing the right major and school for your family
Evaluating alternatives to buying into the hype
You'll stop wishing for the Financial Aid Fairy to arrive and stop using hope as a strategy to pay for college. In Crazy College Money you will learn to rely on yourself and become a smart consumer of a college education, without going crazy.
---
Get Rich Slowly 2.0: How Young People Can Build Wealth In Less Than 55 Pages by Rahimul Taher
If you want an extensive read on personal finance without having to look through hundreds of pages, then look no further than Get Rich Slowly 2.0.
In less than 55 pages, Rahimul Taher, the owner of Taher Financial Planning, discusses the most relevant information of personal finance in an easy-to-understand format.
With topics ranging from the importance of setting financial goals to the nitty-gritty of stocks and bonds , Get Rich Slowly 2.0 is an expansive look into maximizing your finances and your life.

---
How to Buy a Dental Practice: A Step-by-step Guide to Finding, Analyzing, and Purchasing the Right Practice For You by Brian Hanks
If you're thinking about buying a dental practice, you must read this book. Thousands of dentists go through the process of buying a dental practice every year. Did they choose a good practice? Did they buy at the right price? Did they buy at the right time?
The stakes are high to get the RIGHT answers to those questions. Buy the wrong practice and you're looking at stress, money worries, angry staff and patients, and a frustrated family that doesn't see you as much as they'd like. Buy the right practice, like many do, and you have the foundation upon which to thrive - happy, relaxed, wealthy and positively impacting the lives of patients and living the life of your dreams.
Unfortunately, the process of how to buy a dental practice remains a black box for the majority of buyers. Advice, tips and information are spread across magazines, blogs, online forums and podcasts with no easy way to tell the good advice from the bad. Until now.
How to Buy a Dental Practice walks buyers step-by-step through the process of finding, analyzing, and purchasing a great dental practice. In this book you'll find answers to questions like:
How do I find a good practice?

How do I choose a good accountant and attorney?

How can I tell a good practice from a bad one?

When is the right time to sign a letter of intent?

What can I negotiate besides price?

How do I get a bank loan?

What do I do after I find a practice to buy?
After reading this book, you will be armed with the specific knowledge and checklists to find, analyze and purchase the right practice for you.
---
Income on Demand: Master Your Retirement Portfolio, Ignore the Market, and Leave the IRS Weeping by Jonathan Bird
As you near retirement, you may find yourself searching for peace of mind. If you follow the conventional wisdom of buying dividend-focused stocks, you're likely to encounter two major problems. The first is a higher than necessary tax bill, and the second is underperforming the overall stock market. That is not the retirement dream you've worked for—it's a recipe for frustration.

There is a better way to generate reliable income—one that billionaires like Jeff Bezos of Amazon, Larry Page of Google, and Marc Benioff of Salesforce routinely use.

Income on Demand is a step-by-step guide for structuring your investment portfolio so you can generate income on your terms, have more money by investing in index funds, and save money on taxes. It also helps remove stress by providing you with the most effective defenses for withstanding a down market. Income on Demand empowers you to transform your financial house into a financial castle.
---
Joy of Financial Planning: 7 Strategies for Transforming Your Finances and Reclaiming Your American Dream by Jason Howell
Can you still achieve the American Dream? You don't have a pension. Social Security and Medicare may not be there when you need it. You pay much more for housing, even adjusted for inflation, than your parents ever did. College education prices have skyrocketed. You may have gone to a good school; you may make good money (even saved some of it) but this is not the life you imagined.
You are stressed, you are too busy, and most days, you feel really tired. What happened to your big dreams?
Blending his career in finance and background in politics, Jason Howell has outlined 7 financial strategies to help you reclaim your American Dream. Joy of Financial Planning shows this generation how to overcome the challenges of a highly competitive, politicized economy.
The good news is you can still make an impact on a world desperately in need of your financial success.
---
Mastering Money: A Simple Guide to Achieving Financial Success by Inga Chira
Do you want to learn the basics of personal finance to improve your current money situation?

Are you just starting out and need to establish your credit?

Maybe you're interested in improving your current credit score.

Mastering Money will help you no matter what your situation.

Inga Chira has a Ph.D. in finance and is a Certified Financial Planner. In this simple guide she gives examples to help you understand how to achieve financial success. Here are some of the topics covered in Mastering Money:
Understanding insurance
Learning about investments
Discussing money strategies with your spouse
Identifying stress-related money issues
Improving your understanding of tax deductions
It's never too late to start putting a financial plan together. With chapters on student loans, purchasing a home, and more, Mastering Money: A Simple Guide to Achieving Financial Success has all the information you'll need to get you started on the right path.
---
Money Flow E-Book by Anna Sergunina
From the creator of Money Flow System, the online course designed to help you get your financial life in order quickly and with ease, and of Money Flow Bootcamp, a five-week live training bootcamp that teaches the ins and outs of money management, comes Money Flow E-Book. Take control of your cash (and control your costs!) flow with this quick and easy guide.
---
Money with Purpose: Receive the Dividends of an Undivided Financial Life by Morgan Ranstrom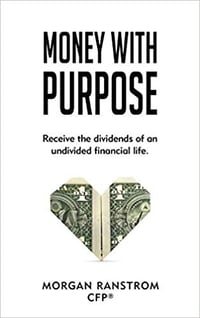 This is the book on money you read before all the others. Though there are entire sections of bookstores devoted to helping you achieve financial success, most of us are more overwhelmed than ever when it comes to personal finances.
Worse, our beliefs about money are compartmentalized from the rest of our lives, as if one set of values applies to money and another to the pew.
Morgan Ranstrom, an expert on personal finance and "money and meaning", shows us that the roots of financial success lie beyond spreadsheets and calculators, and in the realm of purpose, our grandest aspirations, and our innermost values.
---
More You Know, More You Grow: How to Get Better Every Day by Joe Bautista
More You Know, More You Grow is about growing yourself spiritually, physically, and mentally. We grow by being lifelong students, constantly seeking wisdom and creating new strategies to deal with life's challenges.

Author Joe Bautista has grown a lot as a person over the past 10 years because he focused on learning and then developed skills to navigate life. We should all learn like we're going to live forever and develop a skillset for the future or face the consequences of being left behind by society. This book covers some of the most influential lessons that Bautista has learned from books, podcasts, YouTube videos, and life experiences.

Hopefully, this book helps you with your journey to grow as a person too.
---
Personal Finance That Doesn't Suck by Mindy Crary
This is a personal finance book for people who don't enjoy reading about personal finance (otherwise, you'd be reading something by Dave Ramsey or Suze Orman right now).
Without all of the financial jargon and market speak, you're looking for a simple understanding of how to make the best use of every dollar coming into and leaving your household—not only now, but also for the future.
When it comes to money and wealth, it's not how much you know, it's what you do next. Financial success is about creating enough clarity in purpose that you know exactly what needs to happen to get you there faster, easier and with more grace.
The last thing people need is another person explaining the nuts and bolts of personal finance. The question is, how can you get inspired about your financial future?
Personal Finance That Doesn't Suck will guide you through:
Identifying your single greatest indicator of future wealth
Achieving more wealth through awareness
Balancing your current situation with your dreams for the future
Creating your vision of wealth
Getting back on track when you run into obstacles
Adopting a wealth mindset and helping you get out of your own way
In Personal Finance That Doesn't Suck, you (finally) see that you really are in control of your money; the real challenges in making your money work for you never has to do with personal finance-y stuff; that's simply a tool to use once you alter your mindset, behaviors and beliefs that allow you to expect more from your money.
---
Spend Smarter in 28 Days
by Steven Briggs
Every year, millions of Americans commit to improving their budget and saving more money. And every year, millions of Americans do not improve their budget and save more money.
That's because most Americans do not have a saving problem - they have a spending problem!
Over the course of 28 days, you are going to take concrete steps to improve your financial foundation by changing your spending habits and the lifestyle choices you make every single day so you spend less and save more.
It is time for you to take control of your spending so you can pay off debt, build wealth, and actually be able to work toward reaching your financial goals.
---
The Charis Legacy: A Legacy Planning Guide to Maximizing Your Giving Impact by Scott Monk
As a young man, author Scott Monk set out to find purpose and direction for his life, and in the process, he realized a calling to build wealth to funnel as much of it as possible into the ministries and charities about which he is passionate. Throughout business school and then studying for the Chartered Financial Analyst® designation and the CERTIFIED FINANCIAL PLANNER™ certification, he would find himself daydreaming about the charitable legacy he could leave and spending his free time researching strategies to maximize the impact of that legacy, and he wrote this book to take what he has learned on this personal journey and share it with other like-minded wealth stewards.
In "The Charis Legacy", he walks his readers chronologically through the life of a legacy builder, from early accumulation years through late retirement years, and offers a goldmine of financial planning strategies for maximizing legacy giving impact at each step of the way. This is a must-read for anyone interested in cementing a financial legacy of giving back, whether to charity, heirs, or both.
---
Uncork Your Finances: Top Tips From "Wine and Dime" Podcast Interviews by Amy Irvine
Is dealing with finances a little less stressful when you have a glass of wine by your side? This book is an extension of Amy Irvine's Wine and Dime podcast and Monday Morning Quarter-Buck Blog - capturing some top tips from the first 27 episodes.
---
Women on the Rise, chapter by Shannon Moenkhaus
Every year, millions of Americans commit to improving their budget and saving more money. And every year, millions of Americans do not improve their budget and save more money.
That's because most Americans do not have a saving problem - they have a spending problem!
Over the course of 28 days, you are going to take concrete steps to improve your financial foundation by changing your spending habits and the lifestyle choices you make every single day so you spend less and save more.
It is time for you to take control of your spending so you can pay off debt, build wealth, and actually be able to work toward reaching your financial goals.
---
Work Your Wealth: 9 Steps to Making Smarter Choices With Your Money by Mary Beth Storjohann
Imagine ditching the stress around your finances once and for all. Think about what your life would be like to have control over your money instead of feeling like it has control over you.
Work Your Wealth isn't your traditional personal finance book. Mary Beth Storjohann, CFP®, speaker and writer makes it her mission to cut through the crap, toss the fancy lingo, make money relatable, and breaks down specific steps and to-dos along the way to provide you with confidence and clarity in your financial life.
Work Your Wealth makes taking control of your finances exciting and easy to do. It provides an organized plan of attack that covers everything from setting goals, budgeting, paying down debt, investing, planning for retirement, using credit wisely, and more. Not to mention a whole chapter that covers your real life money questions.
In addition, Mary Beth wraps up each chapter with a list of detailed, actionable Money Moves to help you build the foundation you need to create your own financial plan. Work Your Wealth educates, motivates and empowers you to gain a financial education, to kick your bad money habits (and your debt) to the curb, to step up and invest in yourself, and most of all to celebrate your wins along the way. If you're ready to take control of your money, Work Your Wealth is your ticket to a new financial life.