3.5 MIN READ
Can an old dog learn a new trick?
Recently, "bullet journaling" came under my radar. After too many missed deadlines and forgotten grocery items, I decided to give bullet journaling a try. The first step is to sit down with pen and paper to organize the journal. That's where I learned the first key lesson. Setting down pen and paper in front of you is a powerful way to settle the mind and get ready to be organized. Old fashioned, pen-and-paper journaling helps our mind stay focused and tune out of any digital distractions.
What is unique about bullet journaling? You ask. First, you can use any journal or notebook of your choice, as opposed to pre-made planners. What a freedom! Second, it is solely your own creation, a combination of your day planner, diary, and written meditation. You use different symbols to differentiate types of goals, tasks, and events in your life, in accordance with their importance and priority.
The system is designed to help you take control of your daily life and make it both more productive, and more meaningful. Sounds like a good start. So how is it done?
Start From the Beginning
The biggest difference between bullet journaling and the traditional planner is its personalized content and format. "The best way to get started is to figure out what your challenges are" creator Ryder Carroll explains. Ask yourself: What do you want the bullet journal to do for you?
Are you overwhelmed by the flexible format? Carroll has an excellent video for setting up your bullet journal, so I suggest you start there when you are ready to create your own.
The main structure of the bullet journal is in the following order:
The Index: it is the first few pages of the journal indicating where things are and a symbol key that you update as you go, so you can go back and find all your important items when you want to go back to it.
The Future log: This four-page spread is a year-at-a-glance calendar with all your future goals, future events, and long-term tasks. Add birthdays, travel plans, and major holidays. Making the Future Log is the first real step of bullet journaling.
The Monthly log: This includes a calendar with a bird's-eye view of the month and a task page with things you want to tackle during the month. You typically start with the first month, and create new ones along the way.
The Daily Log: it contains most of the information about your days, i.e. your day-to-day to-do list.
You can see from the structure that the first benefit comes from creating the journal. You start with a big picture of what you want to accomplish throughout the year. Then you think about what you need and can do this month to get there, what you need to do this week to help you get there, all the way to today.
Keep Logging and Moving Onward
As you create your lists of goals and events try to organize them using different symbols. Carroll recommends using the following:
Task: •
Event: °
Notes: –
Priority: *
Migration: > and <
"Migration" is how bullet journaling helps us organized.
At the end of each month, examine the month's daily log for open tasks, and cross off any task or to-do that is done or no longer relevant to you. For the remaining tasks, divide them into two groups: short term and long term. Put a ">" sign in front of short term tasks and "migrate" them to the next month's log. Put a "<" sign in front of long term tasks and "migrate" the task to the Future Log, choosing a month that makes sense for you.
Migration is an effective way to prioritize our task by "weeding out" any distractions and stay focused on the tasks that are of most importance.
Collect Your Work By Theme With a Collection Section
For ease of future use, you may want to organize certain tasks by type rather than chronologically. For example, you may devote a section of the journal to create things like a reading list, the plan for your summer vacation, your blog pipeline if you are a blogger, etc. This is your "Collection" section. You can carve out a collection section in the middle of the notebook or at the end for this purpose, or you can just put your items anywhere in the journal and record the page numbers in the Index. This will make it finding important journal items a breeze.
Being Productive Instead of Being Busy
As it turns out, this old dog can learn a new trick.
Bullet journaling has been helpful in many ways. I get to prioritize my day-to-day deadlines, organize all my task lists, and plan ahead with the Future Log. By being more organized and forward looking, I get a better sense of how my plan is going. Instead of letting the tasks control me, I am able to control them. So if you feel overwhelmed with a busy life and want to regain control and meaning, give it a try!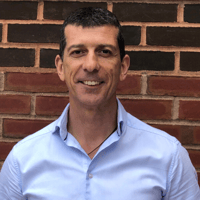 About the Author
Massimiliano ("Massi") De Santis is a Austin, TX fee-only financial planner. DESMO Wealth Advisors, LLC provides objective financial planning and investment management to help clients organize, grow and protect your resources throughout your life. As a fee-only, fiduciary, and independent financial advisor, Massi De Santis is never paid a commission of any kind, and has a legal obligation to provide unbiased and trustworthy financial advice.
Did you know XYPN advisors provide virtual services? They can work with clients in any state! View Massi's Find an Advisor profile.