4 MIN READ
Remember when you'd get in trouble at school and the teacher would threaten that your bad behavior would end up on your permanent record? Well, as it turns out, the "record" we thought was just an idle threat is actually real—it's called a credit report. And though it won't reveal how you pinched Sandy Whitbeck because she tried to steal your best slammer pog (remember those?!), it will give a detailed account of your credit history to anyone who requests it.
Do you know what's on your credit report? If not, I recommend finding out. In the fiscal world, your credit report serves as your credentials. It's a diary of your financial conduct—whether you've paid your bills on time, what loans you've applied for, how many credit accounts you have open, etc. Everyone from lenders to landlords uses its contents to decide whether or not to give you a leg up in the world.
Despite the outstanding importance of knowing the ins and outs of their credit report, a 2016 survey from Credit.com found that 34% of Americans have never thought about checking it, and nearly 40% of millennials don't even know where to get a credit report.
Come on friends, we can do better than that. We have the whole freaking internet in our pockets.
If you're one of the 40% who don't know where to look for your credit report, or aren't familiar with credit reports at all, here's a crash course in what you need to know.
What's in a Credit Report?
A credit report—which is basically exactly what it sounds like—details your debt payment history. The credit reporting agencies cull this information from creditors and public records. Each of the three major credit bureaus (Equifax, Experian, and TransUnion) have a unique layout of your report, but they all contain the same basic data. This includes:
Personal information:

Your name, date of birth, Social Security Number (SSN), place of employment, current and previous addresses, telephone number, etc.

Credit history:

Your credit accounts (including credit cards, mortgages, and auto loans), account numbers, payment history, balances, and current account status.

Credit inquiries:

Everyone who has requested your report in the past two years.

Public records:

Bankruptcies, tax debt, third-party collections, and lawsuits.

Consumer statements:

A statement written by you explaining any circumstance that may have impacted your credit history.
The credit bureaus release your report to any lenders from whom you are seeking credit, lenders that have granted you credit, insurance companies, utility companies, and landlords. Lenders use this information to establish your creditworthiness and what interest rates you pay. Others use the information to determine if it's likely you'll pay your bills in full and in a timely manner. Prospective employers can also access your credit report, but only if you give them permission.
Reviewing Your Credit Report
Periodically reviewing your credit report is extremely important. The credit bureaus can make mistakes, so you'll want to make sure everything is accurate. Checking your credit report is also the best way to spot identity theft. Often the first time a person realizes someone has their information is when they find an unauthorized bill or account on their credit report.
Each of the three major consumer credit bureaus are required by law to give you a free credit report every 12 months (if you ask for it). You can get one, or all three, of your free annual credit reports from www.annualcreditreport.com. If you're checking your credit reports for monitoring purposes, I recommend getting one from each bureau every four months. This way you can keep a good eye on things. However, if you're looking to get a solid idea of the state of your credit, it's best to get all three reports at once. Review your reports at least three months before a major financial move (such as applying for a home loan) to allow for time to correct any inaccuracies.
Disputing Errors
Some mistakes on your credit report can have a serious impact on your credit score. If you see account inaccuracies, information that does not belong to you, or negative information that has remained past the allowed reporting time (7-10 years), it's up to you to take immediate action and be your own best advocate.
When disputing information on your credit report, you will need to contact the credit reporting agency that has made the error and provide:
Personal information: name, address, date of birth, and SSN

Details on the information you are disputing and why you are asking for it to be removed

A copy of the credit report that contains the disputed information

Supporting documentation (account statements, a police report, a fraud or identity theft affidavit, etc.)
If you need help writing your dispute letter, Fiscal Tiger has a great list of samples and templates.
The Fair Credit Reporting Act (FCRA) requires credit bureaus to investigate disputes within 30 to 45 days of the filing. Whichever bureau received the dispute has to forward all relevant material to the source of the information (credit card company, bank, etc,) so they are able to begin the investigation process on their end. After the provider has finished their investigation, the results are sent back to the bureau. If the disputed information is found to be inaccurate, all three credit reporting agencies are notified so that each can correct the information in their files.
Monitoring your credit report isn't just important because it helps you spot errors and signs of identity theft — it also gives you a holistic view of your credit history. Take some time to look over any negative items that might be contributing to a low credit score and plan ways you can overcome them and build credit. The most far-reaching actions will be to create a simple budget to help you better manage your finances, pay your bills in full and on time, and keep your credit utilization low.
Now that you know where to find it, get out there and request a copy of your credit report. Let's get this ball rolling!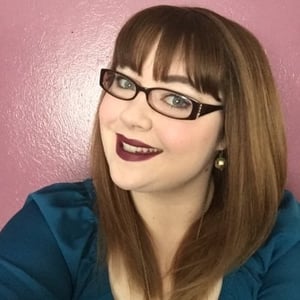 About the Author
Liz Greene is a makeup loving, dog hugging, anxiety-ridden realist from the gorgeous City of Trees, Boise, Idaho. You can follow her on Twitter @LizVGreene or catch her latest misadventures on her blog, Instant Lo.