11 MIN READ
Email marketing can be an underrated element of marketing strategies, but did you know there are an estimated 5.6 billion active email accounts, and 49% of businesses are leveraging some form of email automation?
Like it or not, email marketing is here to stay, which means the competition for emails to be seen and opened in our inboxes is only getting stiffer.
Fortunately, there are many ways to refresh your email marketing strategy. Some of the tips below will only take a couple minutes to implement; others might require more time and attention.
Whether time-intensive and more complex or straightforward and simple, these hacks are sure to yield a high payout when it comes to a winning email marketing strategy.
Hack #1. Don't Set It & Forget It
Your email marketing strategy is not an Instant Pot. To maximize your strategy's potential, you need to revisit your strategy often.
You may not have a designated employee dedicated to email marketing, or even a marketing lead at your firm, but that's okay. You don't need a large team to stay on top of an effective email marketing strategy.
What is important is that you're intentional with revisiting the strategy and implementing new ways to keep it vibrant and fresh. Block out some time (I recommend at least once a quarter) to look over your current state of email marketing and identify areas of improvement.
Do you like the open and click through rates you're seeing? Are your marketing lists decaying a little quicker than you anticipated?
Use this time to identify key areas of weaknesses and strengths and make a plan on how you'll pivot for the next quarter.
Hack #2. Let Your Numbers Do the Talking
Just like in life, the same is true with email data: it's hard to know where you're going if you don't understand where you've been.
Whether you're implementing an entirely new email strategy for the first time, or you have been successfully nurturing prospects and engaging clients for a while, you must keep track of your data. How else will you know if your efforts are paying off?
Set benchmark goals to determine the average rate of success of any particular marketing email you distribute. For example, if you are sending regular email newsletters, you can determine the average open rate, click through rate, most clicked content, and number of recipients. Use those metrics to create a baseline from which to gauge your email's performance.
Just getting started with email marketing? Look at industry averages to determine how your initial communications are stacking up in comparison. At XYPN, the marketing team tracks email data daily, monthly, quarterly, and annually.

While you may not have the bandwidth to do that at your firm, set a recurring reminder in your calendar to check data frequently and consistently to ensure you're steering your email marketing ship in the right direction.
Hack #3. Take a Look Under the Hood
Looking for an easy win to refresh your marketing strategy? Check the health of your marketing lists.
Here are questions to ask yourself as you review your marketing lists:
Are the filters used to set up the list working correctly?

Are your website's lead flows being utilized to add people to your list functioning as they should be? Even if you are manually building your marketing list, have you stayed on top of this task?

Are there opportunities to segment your lists by personas, categories, lead score, client vs. prospect, etc.?

If you are already segmenting your lists, are those segments receiving relevant content? Are there other ways in which you could segment your contacts to increase email engagement rates?

How does your list decay look? List decay may sound scary, but it's a very natural part of your marketing lists' health. For example, your list may experience decay because contacts have changed jobs, which means their email addresses change. While natural decay is to be expected, you do want to pay attention to how much and how quickly your list is decaying. Overall, your list growth should outweigh your list decay. Check out this article for a detailed look into analyzing your list decay vs. growth.
Hack #4. Stick to a Schedule
It's important to create consistency around the type of content you send as well as when you send the emails. By executing on a consistent email strategy, you are setting expectations with your email recipients. Sending a newsletter on a set schedule, for example on the second Tuesday of every month, versus sending a newsletter whenever you find the free time to put one together will increase open rates and other engagement metrics. People are creatures of habit, and email routines are something that will benefit you and your contacts.
Other examples of routine email content include weekly touch points and quarterly updates. You don't have to send an email every day to make a splash. Instead try to find a balance between what is manageable for you and how much your contacts want to hear from you.
Not sure how to find that balance? Start by offering your contacts a simple survey asking them how often they'd like to receive communications from your firm and what kind of communications they feel are most important. You can even ask if there is a specific day they prefer to receive your emails.
Use the responses in your survey to determine how your email marketing strategy can meet your contacts' needs.
Pro tip: use the survey data to create more list segments. XYPN asked members if they'd rather receive the weekly newsletter on Friday or Monday, and we segmented our list by the responses we received. The result? We saw a significant increase in our overall email engagement rates.
Hack #5. Leverage Tools to Get the Job Done
If you're a small firm, you can get away with emailing your contacts right from your inbox...but that doesn't mean you should. With all the email marketing platforms available to you, why not take advantage of a platform that organizes your contacts, lets you create beautiful, user-friendly email templates, and makes your emails stand out?
Use an email marketing platform to add professionalism to your communications with clients and prospects, and to gain the ability to deep dive into data. A good email platform will provide you with key email marketing metrics, which are crucial to improving your email marketing strategy.
There are several different email platforms available, and each comes with a different price tag. According to Inc., here are a few of the best email marketing platforms out there:
Note: The XYPN Marketing Team uses HubSpot, which offers a sophisticated and diverse marketing platform of which email marketing is a part. You could say HubSpot is the whole kit-and-caboodle, but it can be overwhelming and expensive for a new firm owner just getting launched.
Hack #6. It's the Little Things
Once you've dug through the data, reviewed your marketing lists, and feel confident about your email marketing schedule, take a look at some of the simpler features that make an email engaging. These little things can mean the difference between someone opening your email versus clicking delete without a second thought.
Create compelling subject lines. This is your only chance to grab the attention of your recipients. Your open rates will signify how effective your subject lines are and whether recipients are intrigued enough to learn more. When crafting a subject line, try these tips:
Write at least 3-5 variations of the subject line.

You'll find your first attempt is usually not your best option. This exercise will also help hone your creative thinking skills.

Keep it short.

Email services are continually updating inboxes to be user-friendly, which means less clutter and distractions. Make sure your subject line is punchy, short, and eye-catching to cut through the noise of competing emails.

Create a sense of urgency.

If you're contacting someone with a deadline, make sure they're aware of that in the subject line. Urgency drives action.

Add personalization.

Everyone likes seeing their own name. Cater to your contacts' egos with personalization tokens such as name or geographic location. This strategy will make it look like you took the time to contact them individually, even if you used the same template for 100 other people too.
Make sure every email you send has a clear Call-to-Action (CTA). This is a must. You never want to leave the recipient scratching their head thinking, "What was this email for?"
Ideally, an email will only have one CTA, but a newsletter could have several links for the reader to click through. Before you even begin crafting an email, ask yourself: what is the goal or primary intent of this email; what action do I want the reader to take upon receiving my email? Your answer is your CTA. If you want the reader to complete a survey, make sure the CTA is visual, obvious, and attention-grabbing by adding a button for the reader to click.
Personalize your messages! There are several ways to personalize an email, depending on the email marketing platform you've adopted and how much data you have for each contact. At a minimum, you should be customizing your email greeting with the recipient's name.
As your contact data grows, you can add even more personalization. Just like with the subject line, personalizing the email content makes the recipient feel like you took the time to create this email specially for them, thus nurturing your relationship. Take a look at the difference between these opening lines to feel the power of personalization:
Hi Clark,
How are things at ABC Financials? Hasn't the weather been amazing in Cincinnati this April?
VERSUS
Hi there,
How are things at your firm? I hope you've had amazing weather this month.
Don't underestimate the power and purpose of beautiful, simple design. You don't have to be a graphic designer to put together a professional looking email. Email marketing platforms have templates available for you to choose from that will accurately reflect your brand.
If you want to add customized images, consider using Canva, a user-friendly design platform that will make anyone feel like a professional designer. A simple email feature image, or branded CTA button using your brand colors can go a long way towards increasing engagement rates within your emails.
Email marketing won't necessarily be the easiest element of your firm's overall marketing strategy to implement, but it doesn't have to be the most difficult either. Staying on top of your email marketing strategy and breaking it into easy-to-manage tasks will help you stay focused on what's most important: consistent communication to nurture prospective clients and delight your existing clientele.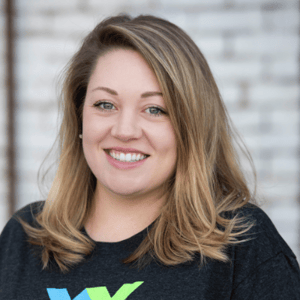 About the Author
As XYPN's Email Marketing Specialist, Whitney Mitchell is responsible for communicating some of XYPN's most important messages. With a background in member organizations, she has developed a passion for using key metrics to communicate the right message to the right audience at the right time. No click bait here! Whitney knows it takes more than a compelling subject line to engage the XYPN audience and always strives to deliver valuable content directly to people's inboxes.