Let's talk about branding and how your messaging can actually help or hurt your company.
When you look at or hear about branding, there is an overriding assumption that anyone who comes in contact with your business will know exactly what you do, who you do it for, and why you do it.
That is not the case.
While branding is considered a core staple of businesses by strategy experts, on the consumer side, branding is just an afterthought. Yet they know bad branding when they see it.
An important piece of building your business is alignment and harmony. When viewing a financial planning website that is geared towards Generation X and Y, but yet it features an older couple on a bench staring at the ocean, do you sense a conflict in brand? What they say is not congruent with what is shown on their website. And let's be honest, a website is the internet's version of a business card and elevator pitch.
If you're going after Gen Y, a lighthouse picture on your web site will not inspire like a smiling couple in an industrial-themed coffee shop. A name like "Gotham Wealth Management" will not resonate as much as it did with baby boomers because of the connotation that surrounds the name. Strength. Stability. Formidable. Intimidating. In my experience, names, web copy, and pictures that are action-oriented resonate more with millennials.
Your target market wants to know what your company is all about, and your brand is your megaphone to get your mission and values out to the world.
What is Branding?
The non-technical definition of branding is: what people see when they encounter your company.
The difference between marketing and branding is that in turn, marketing is how you get people to your company. Branding is what they see when they arrive.
In my opinion, branding is what really sells your company. It can be proclaiming your corporate values. Excitied about your culture? Build it into your brand.
Branding will also represent who you go after and why, including your mission, your vision statement, your logo, your name, your Twitter handle, your Facebook profile page, your colors, your font....everything ties into branding. And that's where people stop short.
Case Study
When I first heard about Zapier a couple of years ago, I looked at the website, the names of automated tasks, the brand colors, and the web copy. Their branding cannot be any simpler. Everything about it denotes speed and efficiency. You see the name of the task ("zaps") and you automatically assume that whatever it does...it will be quick.
Why Branding is Important
Before I mentioned that it's very hard to build a good brand, but it's very easy to spot a bad one. When you see a terrible brand you think, "I could've done better" or "Why did they choose that logo?"
The company may have thought that branding begins and ends with colors, logos, and taglines. It goes a much deeper than that.
Branding is how people feel when they interact with your business. If marketing brings people in and sales gets them to buy, branding will make them listen in the first place. When building a business from scratch, we as financial planners tend to forget to look at our business through our prospects' point of view.
Yes, all of the ways that you approach building their portfolio is great, but that won't make your prospects sit still long enough to listen. You have to engage them first. Tell them that they are in the right place, that your firm's values align with theirs.
You may have all the accolades and designations in the instrusty, but if you practiced empathy for your prospects, you know that they don't want to sit in a meeting for an hour and be told how great you and your firm are. Don't do that unless your niche holds designations in high regard and that will increase your trust factor.
Generally speaking, when you overlay your personal preferences with the preferences of your niche, you really start getting into a good swing of things. It becomes easier to build marketing materials and sales conversations. I don't know if there's a name for it, but there is a sweet spot when the processes and content you're developing has your voice but is geared towards a specific demographic.
When I was writing copy for Ignite Financial's website, I wanted it to be clever, quirky, and a little bit on edge. I wanted people who came to the website to see a tone of text that resonated with them. I even took that a step further; I hoped my website copy would turn away people that weren't good fits. That's exactly what it did. The people who came to my firm through the site had been so indoctrinated with my voice and tone that when they met me, there was no surprise.
Side note: If you are just starting out, I would recommend you build a brief survey in SurveyMonkey and reach out to people in your niche. You have been dealing with your business for so long that you can no longer be objective. Ask them for a huge favor (use Google for the best language for a cold outreach) and if they help you out, you may even get a client out of it. Their feedback will help you avoid entering tunnel vision.
That's a key piece to branding. Think of Mom and Dad Money... if you have no children like me, you will likely avoid even clicking that link because it is irrelevant for you. Good brands repel as well. I already know that Matt Becker wouldn't be a good fit for me, so I will not waste my time by signing up as a prospect.
Advisors who receive a lot of unqualified leads at B/Ds get them because the messaging isn't right. They cannot control the brand message and they get anyone off the street. With their branding of "we help everyone", they are asking everyone to come through the front door and then proceeding to weed people out depending on whether they can afford the products or not. I love how it can be the reverse in the fee-only world. We have a lot of say in who we bring in as prospects. If you charge $6,000 per year as a minimum, you won't get $80,000 households if you put your fees/pricing on your websites.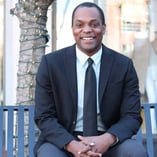 About The Author
Stephen first joined XYPN as a member. After working with the team on smaller projects, he was hooked. He now serves as the Director of Advisor Success. He's worked with multiple companies inside and outside of the financial services industry, specifically in helping them design their marketing and technology strategies.
When he's not working, you can find Stephen in Atlanta, GA attending a startup event, reading a book at a random coffee shop, or diving into new experiences with his wife Erin.