11.5 MIN READ
Most advisors know that a well-crafted website and dialed-in content marketing strategy are a huge benefits when getting the word out about your firm. They also know that when strapped for time, often their marketing efforts suffer. Unless you really love to write and have the time to focus on writing consistently compelling copy for your business, you should consider contracting out at least part of this task.
In this post, I'll explore how to find, hire, and manage contract writers so you can focus more on working with clients—and know that the client work you do is well-represented by your marketing.
Outline Your Needs
Before you begin your search for a writer, spend some time specifically outlining your needs by considering the following questions:
What type of content do you want them to produce? This might include web content, articles, blog posts, or social media content.

How much work are you going to send their way? How much of their time do you need? Consider this before you start to connect with potential freelancers so you begin with a mutual understanding of your needs and requirements.

How much industry knowledge will they need? If you're looking for a writer who can tackle longer content pieces or white papers, be sure they have a good understanding of the financial planning industry and will be able to intelligently and accurately represent your firm.

What will they need to know about SEO and/or the technical side of marketing? If you need someone to work on your website and help build your presence online, then SEO knowledge is a must.

What are you looking for in a writer? How should they represent your brand? Be sure you can articulate your brand strategy and your chosen niche to writers (this means having a well-thought-out strategy before you start the process!)

Will you want to meet with them in person? Do they need to be local to your area? While it's not likely that you'll need to meet face-to-face—and you'll be more likely to find someone who's a good fit for your needs if you widen the net—this may be a consideration in unique situations.
Determine Your Budget
Once you know the scope of your needs, you're ready to create a budget. Think about this in terms of your overall marketing budget, and remember that some of the work you're paying for will be a one-time rather than a recurring expense. For example, if you're hiring a writer to revamp or create website content, you likely won't need to pay for this expense again for at least several years.
No two firms have the same amount of marketing dollars to spend, but generally you can think of paying for quality content as an investment that will bring tangible value to your firm.
Pro Tip from Marketing Coach Carolyn McRae
"The ROI for hiring marketers is high. Let's do a little math. If, for instance, your monthly retainer fee is $250 and you spend $600/month for contracted marketers, the moment their work helps you sign a 3rd client is the moment they've paid for themselves. Every prospect they generate beyond that is an added bonus."
Now that you know what you're looking for in a writer and how much you'd like to spend on their services, let's talk about how to find one.
Finding a Writer
Professional Referrals
One of the best ways to find a quality contractor of any sort is to ask your network for a referral. You'll be able to gain firsthand insight into what it's like to work with that person, and have a sense of the quality of their work product.
XYPN's forums are a great place to ask for referral recommendations from other advisors. This community provides a venue for reaching out to see who your peers have used for their marketing and ask questions about their experiences.
Social Media
You may also have some luck finding writers via professional networking sites like LinkedIn. Read more about sites you can use to find and hire freelance writers here.
Creative Firms
The marketplace abounds with agencies who will vet freelancers for you and match you with writers with your required skill set. Do your homework on the agency itself and expect to spend a bit more than if you found your writer "in the wild."
Online Freelance Networks
Sites like Freelancer.com put you in touch with freelancers who meet your set criteria, and you pay for the work only if you are satisfied with the result. You can view profiles and portfolios for each freelancer, and have an opportunity to discuss the project before you decide to work together.
Consistent Branding
If you find a well rounded, talented marketing writer, consider using that same person for all your marketing projects. This will ensure that style and branding are cohesive and will infuse a consistent tone into your marketing.
Interviewing and Hiring
If you've decided to hire someone on your own rather than through an agency, you'll need to interview writers and review their portfolios. Be specific about your schedule and timeline so you can convey this immediately before you and a writer decide to work together. Below I've listed some of the topics you should cover during your initial interview.
Project and Time Management
Meeting deadlines will likely be a critical concern for you once you and a writer have decided to join forces. Pretty much any freelancer will be juggling multiple projects, so you'll want to ask you candidate how they manage their time and what processes they use to consistently meet deadlines.
Here are a few specific questions you may want to consider:
What would you do if you were up against a deadline you knew you could not meet? Be wary of anyone who tells you this has never happened to them. It happens to even the most organized: you overcommit, life throws an emergency at you, etc. Best case scenario: the interviewee tells you about a time when they were between a rock and hard place and communicated honestly with everyone involved to find a workable solution.

How often do you miss deadlines? It's not likely that they will say often, but it's still worth asking.

How do you manage projects? It's a great sign if a writer mentions using specific tools and software and indicates why they find these tools helpful.Project management and productivity tools like Asana and Trello are a great way to keep work organized and can make managing multiple projects more efficient.
Experience
You'll want to ask about overall experience as a marketing writer, experience with projects like yours, and about specific experience working on projects for financial planning firms. Ask to see their portfolio, and spend some time looking through samples of their work. Find out what type of projects they have worked on and what types of projects they prefer. This will give you valuable information about whether the relationship will be a good fit.
KPIs
Find out how each writer you interview gauges success on a project. If a client hired them to improve SEO, what was the outcome? Have they quantified increases in readership for their clients? What has been the outcome of social media campaigns they have worked on? You want measurable results for your firm, so ask about how this has been tracked for past projects.
Commitment to the Project
Ask about what other work the freelancer has on his or her plate. If they are swamped with other work or in the middle of another large project, this may indicate a potential lack of time for the work you need them to do. Alternatively, if the writer seems desperate for work, find out why this might be. Are they just starting out and don't have any clients yet? Do they have trouble keeping clients. Ideally, you'll find a writer with a steady, satisfied clientele who knows how to manage several projects at once.
Communication
Ask about communication preferences, and be sure that your preferred styles will match up. This discussion should include whether you each prefer to speak on the phone, via email, or whether you'll be using an app like Slack.
Expect that most freelancers will be somewhat protective of their time, but that this should be balanced with the expectation that you will hear back from them within 24 hours (or some other agreed upon timeframe). While you may want to be able to call your writer anytime and expect a speedy response, you probably don't want them being interrupted constantly by other clients while working on your project!
The best communicators are at least somewhat flexible. If you know you'll want to chat through the more creative aspects of your project, express this on the front end to ensure that the writer you choose can set aside time to talk through ideas with you rather than just falling back on email.
Ask what communication tools each writer uses and why. The responses you receive will indicate how they're likely to communicate with you when working together.
Compatibility
At the end of the day, you'll have a better working relationship with someone that you click with. Just like hiring any other employee, if it doesn't feel right, don't hire them!
Take some time to get to know each writer, ask about personal interests, and see if you develop a rapport.
Pro Tip from XYPN Marketing Coach Carolyn McRae
"Hire a freelancer after you've spent three or more months doing the work yourself. This gives you the time and experience needed to properly manage their work and your expectations. After trying it yourself, you'll be able to (1) clearly define the work you need done, (2) understand the value and complexity of their craft, (3) provide any lessons learned from things you tried, and (4) be empathetic when their first piece of work doesn't fill your calendar with a thousand prospect meetings."
The fact is that much of the management advice for permanent employees holds true for managing freelancers as well. Good communication, clear expectations, and regular check-ins are key. While you may expect that the writer you hire will be largely self-managing, it's always better to over-communicate a bit in the beginning to be sure you're both on the same page.
It's much easier to loosen up a little after you've worked with a freelancer for a while and you establish a working relationship than it is to have to rein things in later on.
Managing Freelance Writers
Once you've hired a writer, use your first meeting as an opportunity to reiterate expectations on both sides. Your writer may need certain resources from you—for example, any brand standards you may have already established—so be sure to hand those off in a timely manner.
Agree on a schedule for work to be submitted, and check in and review progress at regular intervals, especially for larger projects, so you can provide input. This can help your writer make any (hopefully minor) adjustments needed and stay on track.
Think in terms of building this relationship just like you would with any other employee. If you can keep a good freelancer over time, you'll save time and resources that you might have to spend building new working relationships.
Setting a Writer Up for Success
To help the writer you hire properly describe your services, you should provide your branding guidelines so your contact employee better understands your business. Are there certain ways you would like to describe your services?
Even if you don't have the exact wording down, describe this in as much detail as possible and have the freelancer wordsmith it for you. They may be able to capture your services and unique value proposition in a way you hadn't considered.
Describe your company's mission and vision, your unique niche, and how you want clients and prospects to see you and your services.
Tools and tech for Managing Freelancers
Lastly, I'll leave you with some tools you might find useful when working with freelance writers:
I'm a huge fan of using a project management system to stay organized, and Teamwork is one I often recommend, especially for more complex projects with a lot of tasks. It's a great way to stay on top of a project schedule, delegate tasks, and share documents. Teamwork also includes project reports and Gantt charts you can use to illustrate your project schedule.
Trello provides a great tool for mapping out tasks and keeping the details of a project from slipping through the cracks. Trello uses project "boards" made up of cards, each of which represents a task. It's a good system for communicating and collaborating around various projects, and is great for those who prefer a more visual representation of projects and tasks.
Asana is a workflow and task management tool that offers a basic free version. It's not a robust project management system, but it does provide the ability to delegate tasks by adding them to someone else's to do list. If you need a fairly simple tool for projects that don't involve a ton of people, this is a good option.
Asana is also really fun to use; the developers definitely have a sense of humor, and have added features like narwhals who zoom across the screen when you check off a task. And when you type Tab+B, you get a furry feline on your screen.
Slack is a messaging platform I highly recommend for teams working together who want to easily stay in contact without relying on emailing constantly. Who doesn't want to cut down on inbox clutter? We use it at XY Planning Network to streamline communication, and I'm honestly not sure how I ever survived without it. Read more about how it can help you manage freelance relationships here.
At XYPN, we use Zoom for a lot of our meetings. It's a great tool when you want to share documents and easily collaborate on a project.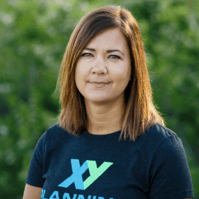 About the Author
Kate Ross has spent the last ten years of her career developing educational materials for financial professionals and brings a passion for instructional design and curriculum development to the XYPN team.
In her free time, Kate can be found front row at a concert, camping in the woods, floating a river, or hiking in the mountains near her home in Montana.