Four (Doable) Ways to Dramatically Improve Your RIA's Website
10 min read
April 19, 2021
Websites are a kind of big deal for independent financial advisors. Regardless of their marketing strategy, nearly every RIA I've worked with uses their website as a "home base" for the firm's brand, marketing, and public perception. With so much relying on your website, it's a good thing you clicked into this blog today. Designing and maintaining websites is far from easy. It takes patience, thought, technology, and creativity.
Today I'm here to help you improve your current website's design even if you have zero prior experience—no coding required. I have experience designing several websites from scratch and have improved countless others. Luckily, there are elements of design that truly matter and are approachable for a beginner.
Below, I'll describe four actionable ways anyone can do this work. As you'll see, the theme is consistency. Even if you're not a creative person, you can significantly improve the firm's website by committing to consistency in your execution. While this post will not cover how to get traffic, craft a message, or create a marketing funnel, we will focus specifically on the visual design elements you can adjust in no time at all. Let's get started.
Define 3–4 text styles and stick to them
Nearly every beginner website breaks this rule. I don't blame anyone, though; it's easy and tempting to play around with fonts. However, this one mistake is a fast-track to a disorganized impression. Today, take a moment to choose 3–4 styles of text you want to use on the website and then stick to them. You'll need different styles for:
Headers
Subheaders (also CTA buttons)
Body/paragraph text (also top navigation and footer links)
You may wish to add a fourth style to this list, and that could be fine, but don't go beyond four. Sure, some professionally designed websites use more than four text styles, but doing so successfully requires skill and an artful eye, so it's best to steer clear.
Next, when I say choose a "style," I'm talking about three main factors:
Font of the text
Size of the text
Capitalization of the text
You may already know that headers are a different size than paragraph text, but did you know you can vary the font and capitalization, too? Playing around with different combinations can help you create a distinguished vibe to your website and sets you apart from other advisors. Here is a very basic example:
Verdana Headers, 38
VERDANA SUBHEADERS ARE ALL CAPS BOLD, 23
Body text for paragraphs, navigation, and footer links will be Open Sans, 16
Once you've decided, apply these font style rules across your entire website. Immediately, you've improved the design by being more consistent—nice work.
What about the color of your text? In practice, it's common to change the color of text depending on what else is happening on the page (i.e., the background of a section, the color of the image it's resting on top of). There's no rule for your 3–4 text styles to have a consistent color across the site. That part will change, if only slightly. Speaking of color, let's dive in and discuss that next.
Commit to a consistent digital color palette
Color might be my favorite part of improving a website. Color increases brand recognition by up to 80%. You might think you're doing well with this part, but if you don't know the hex codes of your brand's five main colors, stick with me here!
Many low-budget websites use several different colors in somewhat random ways and—here's the biggest issue—are inconsistent in the shades of those colors. It's time to clean up the specifics of your brand's color palette. Similar to text styles, taking an afternoon to apply consistent colors across the site will dramatically help a website look more trustworthy and put together.
Define your colors as "hex codes"
This alone is a huge step in the right direction. Saying "my colors are green and blue" and then using various shades of each doesn't create a cohesive brand. You need to define the specific shade of your colors and then use them consistently.
In the world of digital branding, it's vital to know the hex codes of your colors, at the very least. A hex code is a six-digit label assigned to a specific shade, tint, and tone of a color. As soon as you identify the exact hex code of the colors you want, you can use that code consistently across your website pages, content graphics, PDFs, and other digital assets. Your whole team can use the same hex codes, and the firm's visual brand will be elevated as a result. For example, here is one of the green colors our team uses at XYPN.
Note: If a designer helped create your logo, website, or other brand materials, you may already have hex codes your brand should use! Go through your notes from them, or contact the designer or firm directly to ask for the hex codes they used for your brand.
Create a strict palette of:
One main color
Three secondary colors
One accent color
The main color
You will use this color freely and dominantly in the brand. For the website, it'll be the background color. Most commonly, businesses choose a neutral color for the main color, such as white, off-white, tan, or light grey. But still, take the time to select the perfect hex code. Not all light greys are the same! The goal is not to choose the "perfect" shade, tint, or tone of the color but that you are consistent with the choice. A hex code label gets you there.
Secondary colors
These colors are more expressive! On top of the main color, choose a few (three) secondary colors that evoke the feelings you want the brand to be associated with because you'll use them often. Secondary colors can be very different from each other (i.e., light green and dark maroon) or closely similar (i.e., true green and light green).
Secondary colors jazz up the website (otherwise, the whole thing would be plain!). They are particularly helpful when creating sections on a page, buttons for CTAs, decorative icons, infographics, or even deciding what color to wear for your headshots. At least one of these colors will also be used for your website's text, so make sure one is a very dark grey, blue, black, or similar.
The accent color
Finally, choose one more to serve as an optional "pop" of color when you want to accent small elements on the site. You should use the accent color very sparingly, but it's helpful to have this option in your palette when you want to draw attention to something small yet important.
To demonstrate the powerful impression of a cohesive color palette, here's an example from XYPN Member Marie Thomasson, CFP®:
(Source: Modern Assets)
Want help creating a cohesive palette of colors that look great together? I like this tool. You can use it to create new palettes from scratch or add the hex codes you already know, and then "lock them in" using the tool's lock icon (seen when you hover over each color strip). This lock feature is amazing. You're able to keep the "known" colors steady within the palette but refresh the other columns to find complementary colors.
You're ready to move on when you've identified the five hex codes for your brand's color palette and have documented them somewhere that's readily accessible. Add today's date to the document, so future-you knows they're current.
Streamline your CTA button styles
This section will be quick! You know your color palette and text styles now, so go ahead and combine them to find button styles you like. Maybe the subheader text and a secondary color?
I highly recommend using two different button styles on your website, and no more. Create one that'll be "primary" for the main action you want a visitor to take on that page, plus a more subtle secondary button for other actions they can take. Personally, I like to keep the font style the same on both buttons but adjust the color and size to differentiate from the primary and secondary buttons. Here's a quick example:
Many website providers give us the option to adjust other aspects of our buttons, too, such as curving the edges or adding a shadow effect. These additional controls can be a fun way to add personality to your website's style—just be consistent. Go ahead and decide on two buttons for your brand, and stick to those.
Use balance and space for a professional look
As we all know, websites have a lot going on. You're displaying titles, paragraphs, lists, graphics, images, and maybe even a video or two. But when we look at a website, it's common to reach a section or page that feels awkward, busy, or disorganized. If this is you, balance and spacing will likely be your new best friends.
Designers often refer to "white space," which can feel misleading to a newbie because this term doesn't mean "add a bunch of white areas to your design." Instead, it describes the choice to give elements of a design (say, a paragraph of single-space text) a nice amount of "breathing room" between other nearby elements.
This tip is a little more tricky than the previous two because it requires having "an eye" for what's balanced and what's too much or too little white space. To help, here are some examples:
Not enough space (looks crammed)
Too much space (looks odd)
Winner! Elements are balanced (it looks "just right")
In reality, this part of improving your website requires playing around. Finding the goldilocks of spacing and balance for different elements is less formulaic for a beginner and more about achieving something that looks "right" to the eye. Watch this YouTube video to see a five-minute walk-through and more examples.
To start, simply scroll through your website and make a list of the sections or pages that seem crammed, busy, or awkward. Next, set aside time in your calendar to fix the spacing around elements and strive to create improved spacing. Here are some options for achieving this look:
Reduce the size of elements (like I did in the example above)
Make the section larger or taller to create more open space that you can play with
Remove unnecessary elements to create more options for the important ones
If you're overwhelmed, this can be an excellent time to hire a freelance designer for a few hours of work. They could jump in and fix the spacing, balance, and alignment of the website you already have. Personally, I like to post quick jobs like this to UpWork.
At this point, your website should look pretty darn great! Your text styles, color palette, and visual balance are all cleaned up. Next? Let's look at the imagery.
Refresh your bank of images with a brand photoshoot
Advisor websites are heavily dependent on visuals. If you were selling physical goods, this part would be easy, but you're selling a service. RIAs get to express the firm's work and brand with interpretive visuals, and there's a lot of flexibility.
A photoshoot is easy to put off or to procrastinate, but I highly recommend scheduling one now. You can choose to hire a professional photographer in your area (look for pros that offer a "brand shoot" package, for instance) or elicit someone in your network who's particularly good at working a camera. Identify a few options in your mind right now, and send a few emails to those people tonight. Bite the bullet—your website will thank you.
With the help of that person, spend 2–3 hours taking photos for the brand. Change your outfit a few times, and try both indoor and outdoor shots. Once the photoshoot is over, you can use these photos on the website and beyond! Having a vault of visual assets is a tremendous asset to all digital marketing efforts. I know entrepreneurs who book photoshoots multiple times per year because of how insanely valuable it is. Ask yourself:
Are more than ⅓ of your images stock photography?
Are your headshots more than two years old?
Are any of your photos blurry or unrelated to the content of the page?
A picture is worth a thousand words, so represent the business well, and refresh your vault of visual assets. Let the website of XYPN member Danika Waddell, CFP®, CSLP® be an inspiration for custom photography in use. :)
(Source: Xena Financial Planning)
My goal in today's post was to outline a select number of improvements that are not only effective but can be completed in just a few afternoons of work. Take 30 seconds right now to block an afternoon on your calendar (maybe next week?) to get started with part one. Add a link to this post to the calendar event description, and you'll be ready to rock.
Diving into your website administration system to make changes can feel like a big undertaking. However, it's worth it. A few working sessions now have the potential to better convert the traffic you get, and your firm will reap the benefits for months—and years—to come. It's time to get to work!
P.S. for XYPN members:
Want peer feedback on your website? Post it to the Marketing Forum (like this member did)
Want my feedback on your website? The topic for my monthly Open Coaching event will be "Get Feedback on Your Website" on May 19, 2021. Register for the event on the Membership Calendar, and then grab a coaching spot via my Calendly link in the confirmation email.
---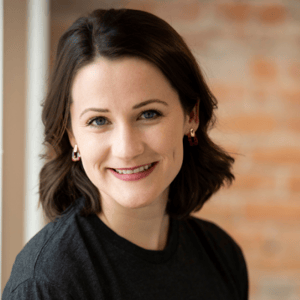 About the Author
Carolyn Dalle-Molle is a professional marketer with several years of experience helping small businesses reach their growth goals. Her approach to marketing is both creative and analytical; helping people achieve a creative flow that's unique and exciting while using tracking and metrics to learn what actually works for their business. Based in Boston, she's honored to work with XY Planning Network from coast to coast. Outside of work, she enjoys volunteering with elderly, making videos, and traveling with her friends and family.