Starting a new job can be nerve-wracking for new employees, and it's equally nerve-wracking for managers who need to get newbies up to speed as quickly as possible. That's why our new XYPN team members have 90-day plans in place to ensure success and reduce stress.
Remember, a majority of employees decide in their first 6 months if they'll stay with a company long term. Because hiring is one of the most expensive initiatives you may do during any given year, you can understand why having a clear plan for new team members is so dang necessary. You just invested so much time finding the ideal candidate; the last thing you want to hear sixty days later from him or her is, "I think I'm going to move back home."
Enter the 90-day plan. Every new XYPN staff member receives a 90-day plan to introduce him or her to our culture, primary tasks, position goals, and a timeline to complete each. A 90-day plan offers a clear line of sight on responsibilities and expected progression in the job. It helps to transparently track and visualize progress and promotes autonomy, self-direction, and accountability. For managers, a solid 90-day plan allows us to step back and not micromanage. Because all of the goals of the position are clearly listed in the plan, it acts as the goal post for development and allows us to quickly recognize if the employee is falling behind.
Although our 90-day plans vary from manager to manager at XYPN, I follow this simple process.
Begin with a Google Sheet.
Make a list of 90-day goals: Think broadly! There are no right and wrong answers when you draft this list. After 90 days, what do you want the team member to be doing? What big projects or tasks do you want them owning and reporting on? By three months, you should expect the new team member will be able to manage nearly all of the tasks you hired him or her to do. This is your time to dream big and define big goals! Be more inclusive than exclusive.
For a paraplanner or an associate, 90-day goals may be:
Prep all meeting material
Handle all financial planning deliverables
Respond to all media requests
Helpful tip: Don't reinvent the wheel! Let the job description become your list of 90-day goals. You probably already outlined the primary roles and responsibilities for the position when you put together the job description. This is a great place to start because the goals will be familiar to the new hire.
Take each 90-day goal and break them down into individual to-dos. This is where you'll demonstrate your ability to manage and assign tasks with clarity. Ask yourself, what needs to happen to achieve each goal? This part can take the longest, but it's the most insightful and important.
Take, for example, the task of "owning the email delivery of weekly newsletters." Since the team member can't take over this task without training, the individual to-dos may look like this:
Practice pulling a list of recipients from our CRM and importing them into our email platform
Create and maintain shared list of newsworthy items to write about
Draft, proof, and schedule a practice email
Always assume your new hire is a rockstar, but don't underestimate the power of a cohesive plan. Take each of your goals and really think about what it will take to achieve them. Are there tutorial videos to watch? Tests to run? Articles to review? Training to attend? Add all of these things as to-dos in the 90-day-plan.
Helpful tip: It's okay if there are repetitive to-dos under various 90-day goals. In fact, repeats are very helpful in understanding what projects can be introduced in tandem.
Add columns titled Month 1, Month 2, and Month 3. You now have a list of 20ish goals and 50-60 to-dos, but a list isn't meaningful until there's a plan in place. The next step is to structure all of this into a chronological format, so both you and the team member understand what they're working on each month.
As you do this, you'll start to see how items work with one another. For example, pulling a list of recipients from your CRM is a to-do that will help with the end-goal of managing the weekly newsletter (Month 2), but it's also an integral part of achieving a different goal: sending out birthday cards to each client (Month 1). That should indicate that the to-do of learning how to run reports out of your CRM is something you may want to move up to the first week or two.
Which leads me to my next phase: Structure the weeks! Draft columns on a separate sheet, titled Week 1, Week 2, Week 3, Week 4, Week 5, etc. This part might seem somewhat random as you start slating items into the weekly calendar, but trust your gut! What happens first? If your month 1 goal is getting to know your clients, your new associate may be tasked with having lunch twice each week with clients in month 1.
By the time you've drafted your 90-day goals and listed the corresponding monthly and weekly to-dos, you should be able to read your plan chronologically from week to week and month to month.
Here is a peek at one of my 90-day plans. You can see how the to-dos support the goals.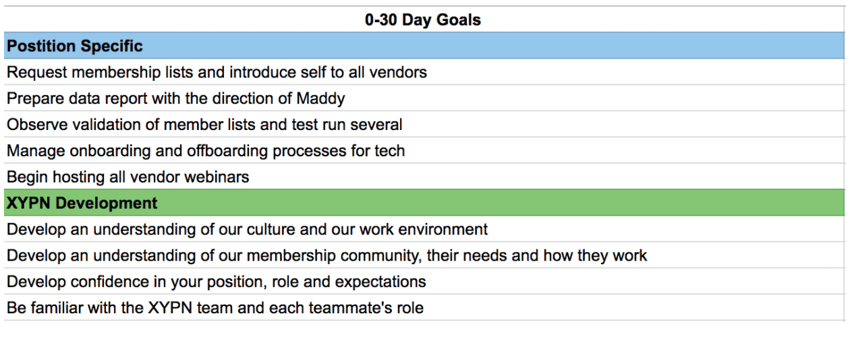 Calendar it! Most likely, many of your to-dos can be clumped into training sessions. As you can see above, I have "eMoney Onboarding" as a 2nd week to-do. On my staff member's calendar, I slated an hour in week two with an event titled "eMoney Onboarding".
Filling up their calendar doesn't necessarily mean you have to fill up your calendar too. Consider an alternative to live training sessions when feasible: recorded tutorials (I use Screencastify to do this). Attach the tutorial to the calendar invite and you are all set.
Before you know it, their first thirty days will be booked up with dedicated time for each of their to-dos and goals. What about the next sixty days? Task your new rockstar with building their own schedule (with your oversight) to support the goals of the job.
Professional Development: Plan to include a number of development goals regarding how they should feel at work and about their work. Put together a recommended reading list to encourage professional development during downtime. Assign a book a month or draft a list of podcasts and articles to amplify their industry understanding.
Presentation
Presenting the 90-day plan is the most enjoyable part of the process. For the first time, your thoughtful approach is going to be seen and appreciated by your new colleague. While presenting the plan, be sure to mention it's a malleable document and plans can change. That's not a free pass to ignore the plan, but it gives you both the flexibility to adjust as needed.
I begin my conversations, "These are the goals I have for you and this position. I've laid out the big plan on this tab, and how we're going to get there on this tab. Your calendar has the first 30 days filled up, and I hope you begin filling in your 30-60 day calendar." I allow the teammate to ask questions.
Follow up!
I make an effort to meet about the plan two to three times before the end of the 90 days to be sure we're on pace and to make adjustments if needed. Scheduling a few progress meetings is critical as it holds everyone - you and your new hire - accountable to achieving the goals of the position.
The impact
I've heard over and over that the concept of a 90-day plan is novel. After using one with our new hires at XY Planning Network, it's my absolute go-to when I introduce new rockstars to our organization. The 90-day plan is a self-development roadmap for team members as they begin to prep and visualize their next 90 days, or 900 days. It's also a great document for them to refer to as their annual review approaches. It's a tool they can tangibly use to update their progress and track where they need help. The 90-day plan is most appreciated by new team members as it gives them confidence that they are mastering expectations.
I asked my staff to let me know what they thought about their 90-day plans and they said the following:
"I loved having a 90-day plan! It made my transition into my position and into the company so smooth. I had the tools in front of me to get to know our company's culture, who we work with, and meet my new teammates. Most importantly, my role was clearly defined and I knew what expectations were of me."
"The 90-day plan helped me learn and keep track of the initial responsibilities and tasks that would fall under my role. In addition, it provided reference, training opportunities and initial development. Lastly, it assisted in learning the culture of XYPN and how all of the pieces fit together within the organization."
"Coming in as a new employee and being given a 90-day plan gave me clear direction of what my job entailed now and would in the future, as well as set expectations. I also enjoy that the plan isn't completely focused on work tasks, but also on personal development and learning more about our company holistically."
Conclusion:
I swear I didn't tell them to say these things! It's an honor to work with the superstars that make up our team, and I feel like it's my absolute responsibility to set them up for success at this company. A 90-day plan is how I do that. There's nothing that tickles me more than hopping into one of their 90-day plans and seeing the staff member is viewing the document (thank you, GoogleSheets!), and keeping up with their to-dos. Thankfully for me, I haven't had anyone quit (yet!).
About The Author
Maddy Roche is the Director of Getting Shit Done at XYPN, and has been getting shit done since she joined the team in May of 2014 when the Network was made up of our first 30 founding members. Since then, Maddy has worked with and welcomed each of the Network's 550+ members, and helps all of them take advantage of XYPN membership. Maddy is responsible for member benefits and services, including management of vendor partnerships and member rollouts and initiatives. She manages the XYPN Member Engagement Program.