7.5 MIN READ
"I find myself filling marketing hours with other tasks."
It's easy to set aside time for marketing; what's harder is actually using that time to market your firm.
I talked about this recently while coaching a small group of XYPN members at XYPN BUILD. The group was talking about marketing plans, and time blocking to get it all done. One member shared they set aside time every week for marketing. Another member chimed in, "I do that, too, but when the time comes on my calendar, I find myself filling marketing hours with other tasks."
How relatable is that? Time blocking is a great tool, yes, but it's not a silver bullet. Just because we set aside time for marketing doesn't mean we actually do the marketing. If you've ever experienced this yourself, I'm here to say all hope is not lost. There are practical, approachable ways to break the habit.
How to Beat Marketing Procrastination
There are two fundamental reasons financial planners avoid marketing.
First, you don't know what to do when "marketing time" shows up on your calendar. You want to grow, you wish more people knew about your firm, but you also get overwhelmed by marketing options and lack specific direction. With this overwhelm and lack of direction, it's no wonder you'd rather fill those time-blocked marketing hours with other tasks.
Second, you may be stuck in procrasti-learning. You tell yourself you're marketing, but you're really just learning about marketing. You're listening to podcasts, Googling tips, attending "how to" webinars, but not taking action to actually apply the ideas. You're learning, disguised as "marketing." Spending your marketing hours on learning versus doing might be one of the biggest habits holding you back from growth.
This blog is in response to both circumstances. Whether you're in the overwhelmed camp or the procrasti-learning camp, you can change that tendency today.
It starts with action. Do something. Time is no longer an excuse. With this list, you can see RIAs don't need 20 hours per week for marketing. You can do something to support the growth of your firm in the time it takes to finish a cup of coffee. Stop worrying, stop learning, stop avoiding, and do these marketing activities. You'll be amazed by how things change when you get into action. Use these activities as a starting point.
Next, don't expect perfection. When you get into action, our brains want the thing to be perfect. Here's a secret: Perfect doesn't exist. You've heard it before, and now you've heard it about marketing your RIA, too. Ignore your mind's desire for perfection. You're the boss. Commit and get something out the door.
Here's your marketing plan for this blog post:
Spend one hour on basic strategy. Marketing is what connects ideal clients to you and your firm. So, know yourself, and know your ideal client avatar. What's your offer? How are you different? What are your assets and constraints? Who's your ideal client? What do they truly want? What are they worried about? It's your job to define these things, and more. Get as much clarity as you can in a single hour. These details will refine and become more powerful as you're out there trying new things, but we have to start somewhere. Don't procrastinate any longer. Keep it to one hour.
Pull up your calendar. Create a recurring event that's 1-2 hours and schedule it at least once per week, ideally in the morning. Tip: Give it a title that sounds approachable, not daunting (e.g. "Share what I do with others" or "Try something new & grow").
Keep this activity list. Copy/paste a link to this blog post in the calendar event details. You may even wish to copy/paste the activity list itself in the description.
Commit. When the time comes, show up and work through these activities one by one. Express yourself, your vision, your skills, your process, your passion, your value, the change you offer people.
Without further ado, here is an action-packed list of nine marketing activities you can do in 60 minutes.
Improve your professional listing
If you're listed on XYPN's Find an Advisor portal or other directories, then potential clients are seeing you, but they're also literally comparing you to others. If you aren't getting much traffic from your listings, this is a missed opportunity. Take an hour to improve it.
Tip: Don't bury the good stuff. Think about the best part of your bio, or the most compelling thing you could say to your avatar, and lead with that. Also, don't try to cram your whole story in. That approach leads to a bio that skims the surface and doesn't say anything compelling. The goal of a professional listing is to introduce a few tailored points so that the right people are intrigued enough to visit your whole website.
Spend $40 on a Google search ad
Consumers search online for financial advisors every single day. In fact, according to Google's Keyword Planner, more than 112,000 searches occur for either "financial planner" or "fee-only financial planner" during an average month. So why not pay a few dollars to appear when the right person is searching for you? Spend 8 minutes reading this post, and then the remainder of the hour creating one ad.
Tip: Don't put any pressure on the first campaign. This first step is about getting started and spending a quick $40 to see how it all works. You can schedule another 1-hour session to spend on this idea once you're up and running.
Create social media graphics
If you're on social media, better visuals are a quick way to impress followers and improve public perception of a small business' brand. Use one hour to create 2-4 graphics for upcoming campaigns or routine posts.
Tip: Use Canva.com. It's a phenomenal tool for the non-designer who wants to look polished. There's a free version of this tool, and it offers countless pre-made social media graphics you can use (like these for Facebook). Templates can be tweaked with your colors, images, and adjusted to your heart's desire. Give it a try!
Post a project on Upwork
The first step to getting help with marketing is asking for it. If you've been holding back on an idea because you "don't have the skills" to get it done, hire someone. I use Upwork regularly for project-based tasks, and have always been impressed with the freelancers I've hired on the platform. Go to their website to sign up (it's free for you, Upwork charges the contractors a small fee). Spend 1 hour posting a project you'd like someone to help you with. You can define the budget, expected deliverables, timeline, and skills you're looking for. Within 24 hours you'll have applicants.
Tip: During the job posting process, you'll have the options to require a cover letter and to ask applicants a few questions. Do these things. I find it's significantly easier to skim applications for "the right fit" when these pieces are included.
Create a content calendar for the next four months
Coming up with creative ideas all the time can be exhausting. A more effective and enjoyable approach is to get yourself in a creative mood and jot down a bunch of ideas at once. Spend 1 hour writing down everything on your avatar's mind, and convert those to topics for content. Write a basic headline (you can edit it later), and 3 bullet points you definitely want to include for each topic.
Tip: Keep your eye out for complex topics. For example, if your brainstorm leads you to realize your avatar is thinking about their next career move, that is a big topic. Break it down, and list everything involved in that decision. This way, one idea ("next career move") might actually help you plan out ten topics. You may even consider creating a series!
Have a mini photoshoot
Original photos are always useful in marketing. Your website, print materials, digital content, ads, press, events, and basically anything related to marketing can benefit from better photography. I especially encourage you to do this if all you have are headshots or stock images. [Look at brands you admire. Are they using stock photos? ;)]
Spend an hour having a mini photoshoot. Ask a friend or family member to be your photographer, or simply set a timer on the camera and do this yourself. Your smartphone is good enough. Take photos working at your desk, outside in nature, or doing something that represents your niche.
Tip: Even if you just get two new photos in the hour, consider it a win! You now have new brand's visuals you can use for the next couple of years. Also, if you know your brand really needs this, check out this succinct step-by-step guide with a 5-hour plan.
Write for 60 minutes nonstop
This marketing activity is always useful, and always there for you. Just write for 60 minutes nonstop. For the hour, don't worry what it's for or where it's gonna go. It doesn't matter where this goes eventually, just write. Documenting your thoughts is synonymous with creating a marketing asset. You can set aside another hour later to pull out pieces you like, and want to share.
Tip: Imagine your dream prospect is sitting there with you. If they were unfiltered in the conversation, what would they say? What would you say? Write.
Record a voice memo
This can be a useful followup to the previous point above. If you ever find yourself facing writer's block, talk it out. I do this multiple times throughout the month. It's oddly effective for me, and I've heard similar feedback from advisors I've coached.
Press "record" on your phone or computer, and talk aloud. Imagine an ideal client is sitting with you, and is asking questions. Say questions they may be asking, and practice what you would say. Talk for the full hour, or at least 15 minutes. Spend the remainder of the hour listening to this recording, and taking notes. Use this exercise any time you have things on your mind, or want to get ideas for your website, speeches, a webinar, podcast interview, blog posts, email newsletters—whatever!
Connect with content creators in your space
Reach out to content creators who are already speaking to your niche or ideal audience, and introduce yourself. Offer a highly valuable set of lessons you'd be excited to share with their community, if they want to have you on as a guest. Spend an hour creating a "wish list" of communities you'd love to be featured in, and then another hour session reaching out to some of those creators with a targeted, valuable idea.
Tip: Don't ignore the smaller, niched communities! Sure, we'd all love to be featured in The New York Times, but even "no name" brands can have quality followings that are highly engaged. Also, make your first outreach incredibly concise and tailored to the content creator. Four compelling sentences are better than two fluff paragraphs. Lastly, don't give up too soon. If I send out 20 offers, and get 1 feature, I consider that a win.
---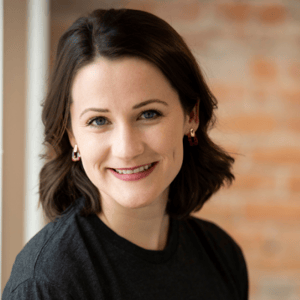 About the Author
Carolyn Dalle-Molle is a professional marketer with several years of experience helping small businesses reach their growth goals. Her approach to marketing is both creative and analytical; helping people achieve a creative flow that's unique and exciting, while using tracking and metrics to learn what actually works for their business. Based in Boston, she's honored to work with XY Planning Network from coast to coast. Outside of work, she enjoys volunteering with elderly, making videos, and traveling with her friends and family.